Notes from a lecture by Jonathan Crofts, 7th September 2021.
~ Index ~
The Mystery of the Glass House
The Home of 'Cambridge the Everything'
Meadowbank, Meadowside, Haversham Grange, and Bishop's Observatory
What traces survive of this rich history today?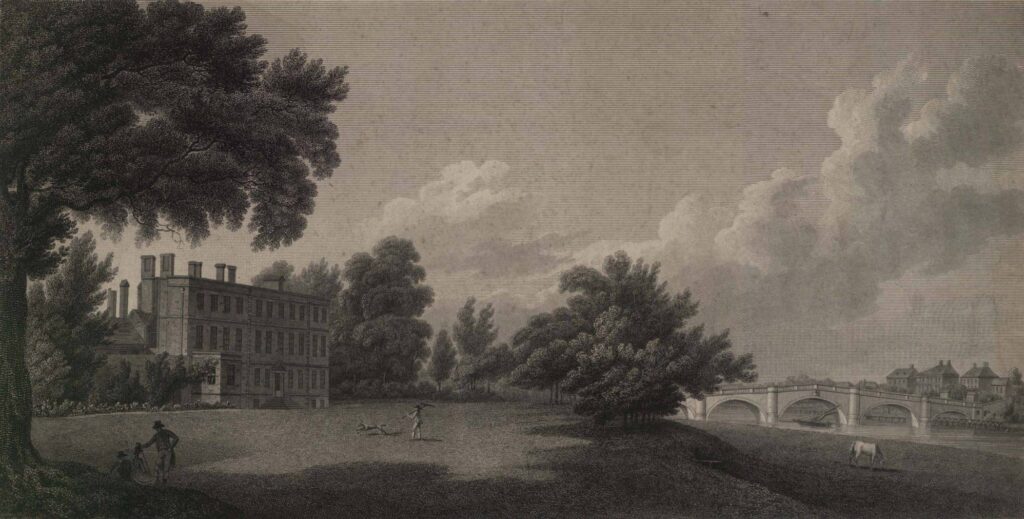 Much has been written about Marble Hill over the last five decades, and new research continues to unearth stories about the lives of its inhabitants, architecture, gardens and, since the House and Park came into public ownership over a century ago, its community benefits. The history of Orleans House (and now Gallery), immediately to the west, has also been well documented by local and specialist historians.
Less is known about the equally fascinating area immediately to the east, which evolved from the Middlesex meadows along the Thames, originally part of what became the Syon estate, within the Earl of Northumberland's Manor of Isleworth, into a property known as Twickenham Meadows in the seventeenth century. The fine Jacobean mansion and grounds here was renamed Cambridge House in the early nineteenth century after perhaps their most illustrious owner, Richard Owen Cambridge – his tenure marking the cultural heyday of the estate.
The loss of Cambridge House in 1937, last vestige of the estate and demolished as part of suburban development, partly explains why Richard Owen Cambridge is not now as well known locally as Henrietta Howard and other later owners of Marble Hill.
Less familiar too are other structures which are no longer evident today. A small group of buildings first came to be mapped and recorded on the boundary between the Twickenham Meadows estate to the east and Henrietta Howard's Marble Hill estate to the west. The early history of these lost buildings is still not confirmed and remains something of an enigma.
The Mystery of the Glass House
In John Rocque's map of the 1740s, a cluster of buildings is shown positioned at the south-east corner of today's Marble Hill Park. The earliest reference to these appeared in the parish rating assessment of 1652, identified as 'ye glass house', owned by Sergeant Edward Birkhead. In the 1661 Survey of the Parish, these then show up as 'The Glass house that Trotts lives in' (probably James Trott, listed in 1643 as churchwarden at St Mary's Church in Twickenham).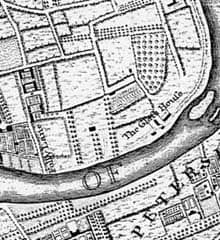 In John Rocque's map of the 1740s, a cluster of buildings is shown positioned at the south-east corner of today's Marble Hill Park. The earliest reference to these appeared in the parish rating assessment of 1652, identified as 'ye glass house', owned by Sergeant Edward Birkhead. In the 1661 Survey of the Parish, these then show up as 'The Glass house that Trotts lives in' (probably James Trott, listed in 1643 as churchwarden at St Mary's Church in Twickenham).
The churchwardens' accounts of 1675 note 4 shillings 'paid to John Rogers for going to London to ye masters of ye glass howse…' (could this be the Worshipful Company of Glass Sellers?).
In 1711, three buildings are shown in the Earl of Mar's 'Scatch of the Grounds at Twittinhame', and in 1750 these were probably rebuilt as two smaller houses – one occupied by John Fridenberg, neighbour of Henrietta Howard, and a second house later named as Little Marble Hill (the home of Henrietta Howard's great-niece, Henrietta Hotham).
Despite these records, and other evidence pointing towards glass manufacture on the site, there is nothing solid to confirm the original purpose of the 1650s buildings, nor why it was marked on early maps as 'The Glass House', while other more significant properties such as Twickenham Meadows, later known as Cambridge House, remained unnamed. Intriguingly, glass and industrial slag were found in recent archaeological investigations into the grotto at Marble Hill – used in the decoration here as well as in that of Alexander Pope? Could this have been manufactured at the Glass House? The mystery is not yet fully unravelled.
The Home of 'Cambridge the Everything'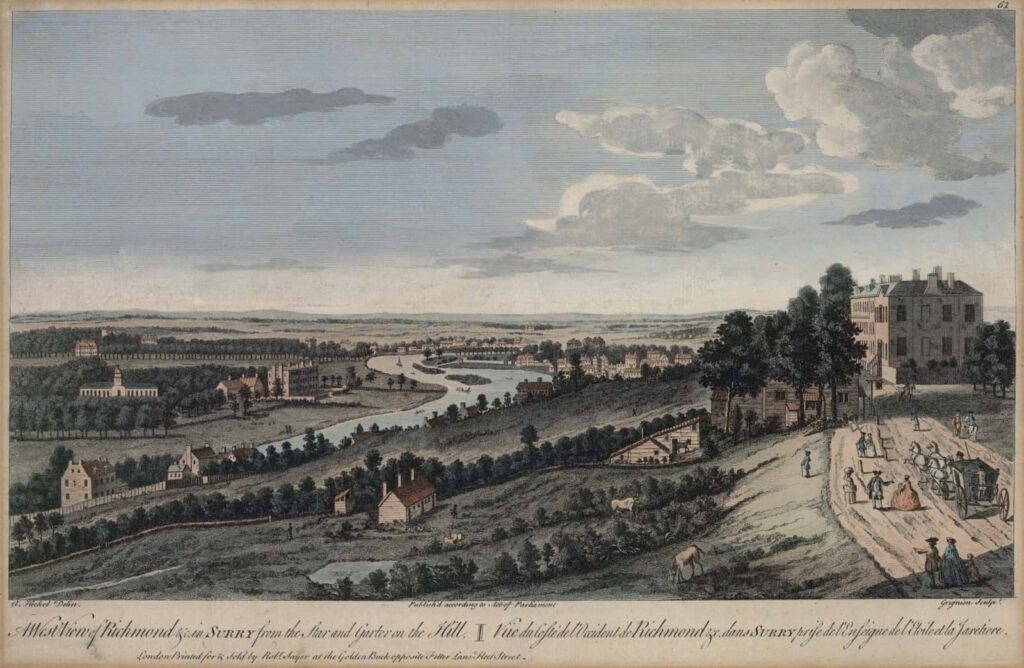 'From this Terrace one looks down upon the Thames, a sublime translucent Mirrour, on the other side of which are the beautiful meadows of Twickenham, judiciously arranged and adorned by Mr Owen Cambridge their Proprietor, in which is situated his Hospitable Mansion.'
So wrote Ozias Humphry, miniaturist and portrait painter, in his Memoir (c.1802, Royal Academy of Arts), on the view from Richmond Hill. That view immortalised the Twickenham Meadows/ Cambridge House mansion in the paintings and engravings of Augustin Heckel and others. Renowned artists JMW Turner and Sir Joshua Reynolds also painted locally and indirectly contributed to the preservation of the famous 'View' by Act of Parliament at the start of the twentieth century.
Reynolds was a frequent visitor to Richard Owen Cambridge at his Twickenham home. Cambridge, partly by virtue of his considerable inherited wealth, was able to amass an extensive collection of friends and acquaintances, books, paintings and objets d'art which enhanced the appeal of his natural wit and intellect. His social circle included Horace Walpole, resident at Strawberry Hill House down the road, and it was Walpole who nicknamed him 'Cambridge the Everything'.
'Cambridge the Everything' was a worthy epithet for the man. In the early 1750s he published to mixed reception The Scribleriad, a lengthy and satirical mock-heroic poem, praised by friends but not otherwise widely acclaimed. In the following years, more poems were published, including in 1756, An Elegy Written in an Empty Assembly Room (which drew praise from Horace Walpole) and The Fakeer: a Tale, which drew inspiration via M. Voltaire and Père le Comte, from the latter's History of China – exotic stuff indeed.
R O Cambridge's interests and accomplishments were many and varied, such as his flair for landscape gardening. With the mood of eighteenth-century gardening moving towards open aspects and pastoral idylls, the formal gardens that had fronted the house underwent drastic change: he cleared away the high walls and hedges excluding the view of the river in order to open up vistas, and built a grove along the upper part of the meadows about three-quarters of a mile in length, covered in soft turf and shaded by tall trees, with views through to the meadows where oxen grazed, and beyond to the river and Richmond Hill. For these alterations he received flattering compliments from the famous 'Capability' Brown, the great landscape gardener of the day.
Generous of spirit and proud of his gardens, Cambridge opened them up freely to arrivals from the river, so that others could come and enjoy the pleasing surroundings. Before long, he had people arriving by the boatload with their picnics, but with a growing lack of respect for decorum, and considerable skulduggery in the shrubberies, he was quickly forced to put up notices banning further entrance to his grounds to the general hoi polloi.
Being a man of considerable wit, great conversational powers, and good literary taste, Cambridge's house was the resort of many prominent men of the day: Lord Hardwicke (former Lord High Chancellor of Great Britain), Lord North (Prime Minister to George III) and Lords Hyde, Gray and Fox (among the founding members of the Society of Dilettanti, which promoted study of ancient Greek and Roman art, having learnt to admire this on the Grand Tour, and a forerunner of the Royal Academy). Another visitor to Cambridge Park was Admiral Boscawen, an eminent admiral in the Royal Navy, victor in many skirmishes against the French, and MP for Truro – his home was at Hatchlands Park, now a National Trust Property.
Other friends of Cambridge included Lord Anson, First Lord of the Admiralty, and Sir Joseph Banks, founder of Kew Gardens under George III, an eminent plant collector, and promoter of Australia as a site for settlement; he was also a member of the Society of Dilettanti. Also coming to the house were Captain Cook before his last voyage; James Bruce, a Scottish traveller, writer and antiquarian, whose exploits in Abyssinia (present-day Ethiopia) inspired the Surprising Adventures of Captain Munchausen, and Captain George Vancouver, explorer and navigator, father of the city bearing his name in Canada; he retired to Petersham and is buried in the cemetery of St Peter's Church. Cambridge was also acquainted with his neighbour Henrietta Howard at Marble Hill.
James Boswell, receiving an invitation to dine at Mr Cambridge's house in the company of Sir Joshua Reynolds and Dr Samuel Johnson, deemed it important enough to cancel a proposed visit to Lord Pembroke at Wilton, for he thought it 'a scene not to be lost'. His diary for 18 April 1775 records: '… to dine with Mr. Cambridge at his delightful seat on the banks of the Thames at Twickenham … an elegant entertainment, a very accomplished family, and much good company (which included Mr. James Harris and Mr. Gibbon the historian).' James Harris, the 1st Earl of Malmesbury, was a highly skilled diplomat and statesman. Edward Gibbon was the author of the famous History of the Decline and Fall of the Roman Empire.
Boswell was later to write of Cambridge:
'If a beautiful villa on the banks of the Thames … a numerous and excellent library which he accurately knows and reads, a choice collection of pictures, which he understands and relishes, an easy fortune, an amiable family, an extensive circle of friends and acquaintances distinguished by rank, fashion and genius, a literary fame, various, elegant and still increasing, colloquial talents rarely to be found, and with all these means of happiness enjoying, when well advanced in years, health and vigour of body, serenity and animation of mind, do not entitle him to be addressed 'Fortunate Senex', I know not to whom, if any, that expression could with propriety have been used. Long may he live to hear and feel it.'
Throughout his life, Cambridge showed a lively interest in current affairs, and it was his habit to rise early and ride to London to spend the day with his friends. After such a day, he would return to his family and, with great pleasure, regale them with amusing stories or more serious matters. That he was a gossip, albeit an amiable one, is without doubt.
'There is not so untittle-tattling a village as Twickenham in the island, and if Mr. Cambridge did not gallop the roads for intelligence, I believe the grass would grow in our ears', wrote Horace Walpole to Lady Ossory. His friend Mr. Gibbon referred to him as 'the Cambridge mail' and the actor David Garrick, another great friend, amused a private gathering with 'a perfect piece of acting … even to the click of encouragement with which one gentleman, inclined to be the hasty bearer of news about a village, would set his horse off again when he had disburdened his mind.'
R O Cambridge died in 1802, leaving his son George to manage the estate on behalf of his mother and his sister, Charlotte. Both of these were dead by 1823, with George becoming the owner of house and lands.
Meadowbank, Meadowside, Haversham Grange, and Bishop's Observatory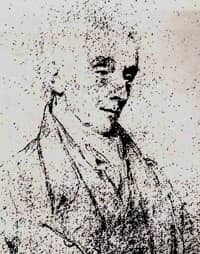 The eventual division of the Cambridge Park estate under an ageing and childless Archdeacon (George) Cambridge in 1835 was preceded by the construction of two riverside villas. A handsome and comfortable home was built for George and his wife Cornelia at the southern end of the meadows on land known as the Old Warren, along the banks of the river.
Smaller than Cambridge House, Meadowbank contained at least sixteen rooms on two floors. In addition, the domestic offices consisted of a servants' hall, housekeeper's room, butler's pantry and six staff bedrooms, together with a large kitchen, scullery, various larders and wine cellars. Outside were stables containing six stalls and two loose boxes, three double coach houses, a harness room and rooms above for the grooms, all set around a carriage yard. A separate gardener's cottage was provided, together with vinery and cucumber houses and, well removed from the house, a cow shed. A separate building housed the dairy. Sadly, none of these now survive.
Between 1832 and 1833, Archdeacon Cambridge built a second villa on a strip of land alongside his new house, adjoining the boundary with Little Marble Hill (then owned by the Brent family). This villa, 'a substantial house close to Little Marble Hill … lying back from the river', known as Meadowside Cottage, was initially occupied by Captain Henry Jelf Sharp, a friend of the family.
In 1861, Meadowbank was sold to Mr John Parson of Ham Common. Parson appears to have been somewhat of a property speculator, judging from his involvement also in the purchase and resale of York House in Twickenham two years later. In the case of Meadowbank, he raised a small mortgage of £3,800, and his first move was to enclose the house, together with the surrounding garden and nine acres of land fronting the river. Two months later he sold it for £6,000, at the same time discharging his mortgage. On the 20 acres John Parson had retained, he now set about constructing a new house and grounds, later known as Haversham Grange.
The new owner of Meadowbank, meanwhile, was a wealthy amateur astronomer, George Bishop, who in 1863 erected an observatory in the grounds, using the instruments and dome previously set up at the home of his late father in Regents Park, where city smoke and light pollution had obscured clear views of the heavens. The Cambridge House part of the estate, meanwhile, underwent its own transformation.
When Henry Bevan and his wife, Harriet Droz, acquired Cambridge House, it was already more than two hundred years old and in need of a major overhaul. Mr Bevan was exceedingly rich, as member of a family whose fortunes were based on banking and brewing. His father, Silvanus Bevan, was a partner in the banking firm of Barclay – a precursor of today's Barclays Bank.
Henry Bevan's considerable wealth enabled him to use the services of Lewis Vulliamy (1791–1871), a fashionable architect of the period, to lead the extensive alterations carried out after his purchase of the House in 1835. The kitchen gardens and grounds of the house were transformed, with greenhouses and a new orangery.
What traces survive of this rich history today?
Suburban development and upmarket private residences now conceal or have replaced the layers of architecture constructed in appealing Thames-side settings by leading members of Twickenham society in the eighteenth and nineteenth centuries. But clues remain.
Meadowbank still exists as a private home under the same name, remodelled by Keith Whitworth Architects in 2002–3. When George Bishop sold Meadowbank in 1877, he donated the telescope and other apparatus from his observatory to the Capodimonte Astronomical Observatory at Naples, Italy, where they remain to this day.
Meadowside remains as the name of a collection of Art Deco apartments, constructed in the 1930s on a gated site with extensive grounds which border Marble Hill Park.
Haversham Grange was rebuilt in 1980 behind a security gate, on a sizeable plot that runs around the house and down to the river's towpath, designed by architects Rosenberg & Gentle and accessible via what is now Haversham Close. The owner was a leading consulting engineer involved in the design of London's Centrepoint and other iconic edifices across the city.
Cambridge House remains only in engravings, paintings and photographs produced during its lifetime, but the public Cambridge Gardens near Richmond Bridge commemorate Richard Owen Cambridge and the fine Jacobean house with a plaque. One of the original high walls of the grounds now spans the boundaries of a number of gardens in local Morley and Alexandra Roads. Cambridge himself is remembered in books and other writings, some of which are in the public domain online.
His son George's name persists at the Archdeacon Cambridge School in Twickenham. The wall of Archdeacon Cambridge's chapel on Chapel Road, off Montpelier Row alongside Marble Hill Park, survives: the open roundel at the top marks the position of the original window at one end. There are also remnants of the chapel in Cambridge Park's own St Stephen's Church.
Little Marble Hill was demolished in 1873–4 and its site today lies in the shady south-east corner of Marble Hill Park.
As for so many of London's lost grand houses and gardens, existing and new research ensure their history can enhance our understanding of our local area – its architecture, geography and social evolution. Around Marble Hill in particular, the seventeenth and eighteenth centuries laid the foundations for a cultural community and heritage which continue to enrich our lives today.
© Jonathan Crofts, 2021. All Rights Reserved.
Click here to view the talk on YouTube.
Further Reading:
Meadows, Mansions and Munitions: Stories and Lives of Cambridge Park, Jonathan Crofts (Richmond Bridge Media, 2021) Home | Richmond Bridge Media (bigcartel.com)
Twickenhamshire, Chris Sumner and Michael Symes, (Redcliffe Press, 2021)
Henrietta Howard, King's Mistress, Queen's Servant, Tracy Boorman (Jonathan Cape, 2007)
Twickenham Past, Donald Simpson (Historical Publications, 1993)