(1799-1879)
While we rightly connect this house to Henrietta Howard, Countess of Suffolk, Marble Hill was owned and occupied by General Peel from 1826 until his death in 1879 and by his widow until her death in 1887. This was a longer period than when Henrietta lived here. Jonathan Peel was a politician and soldier and the fourth son of a very successful cotton manufacturer, Sir Robert Peel, the first baronet. His elder brother, who succeeded to the baronetcy as the second Baronet and who was also known as Sir Robert Peel, was famous as the Home Secretary who founded the Metropolitan Police and as Prime Minister for repealing the Corn Laws in 1846.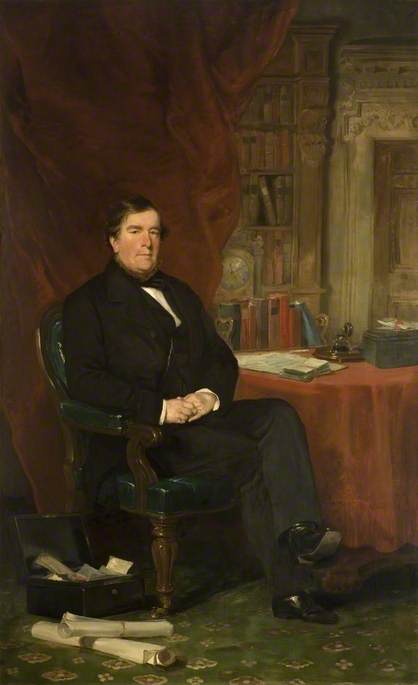 General Peel was born at Chamber Hall, near Bury, Lancashire, on 12 October 1799. He had received only his commission on 15 June 1815, three days before the battle of Waterloo, so he never saw any military action. He was a major in the Grenadier Guards when he bought Marble Hill in 1825, having reached this rank in 1822* and he then progressed through the ranks becoming a major-general in 1854 and a lieutenant-general in 1859, when aged 60, retiring in 1863**, a much older age than even a general officer would be able to serve today. The War Office refused to let him serve in the Crimea as they said he was too old. This is actually surprising as the Commander-in-Chief, Lord Raglan was aged 66 and Peel was aged 55. However, Peel was probably fortunate not to serve in the Crimea, as initially the campaign was a disaster for the British army.
In 1824 Peel had married Lady Alicia Jane, the youngest daughter of the first Marquess of Ailsa. They had five sons and three daughters. He was able to pursue a political career alongside his military career and in 1826 he became one of the members for Norwich, representing as a Tory MP. The party only called itself the Conservative Party after 1835, a title chosen by his brother in the Tamworth manifesto. In 1831 Jonathan Peel became MP for Huntingdon, which he represented until his retirement from parliamentary life in 1868. Peel became Surveyor-General during his brother's second administration, in 1841–46 and Secretary of State for War in Lord Derby's short-lived second administration in 1858 and again held this post of Secretary of State for War in Derby's third administration from 1866 to 1867, but he resigned from office in 1867, because he was not prepared to support Disraeli's Reform Bill, which was passed that year, which more than doubled the franchise.
However, Jonathan Peel's real interest was racing. He built new stables in Marble Hill Park, where the cafe is today. His first major success was in 1832, when his horse Archibald won the Two Thousand Guineas. In 1844 his horse Orlando won the Derby. It was a sensational race, because a horse called Running Rein actually came in first and Orlando second, but after Peel's appeal, this horse was disqualified as being a four-year-old, and the race was awarded to Orlando. In 1851 Peel sold his stud for 12,000 guineas, but resumed his racing connection in 1869 after buying a string of horses from the estate of the Earl of Glasgow.
According to the 1841 census, Peel, his wife and children, lived in Marble Hill with sixteen servants. It must have been a bit of a squash, if they all lived in, even with the east wing, which was demolished in 1909. In the 1861 census, the gardener and his family are shown to be living in the lodge and the coachman and his family in the stables. In the course of Peel's ownership, he consolidated the Marble Hill estate, including purchasing the land on which Little Marble Hill stood on the east side of the park, in 1876. Little Marble Hill had been demolished shortly beforehand. Peel died at Marble Hill on 13 February 1879.
*According to the Dictionary of National Biography (DNB) he was already a major when he bought Marble Hill, but according to Wikipedia he was still a captain.
** According to the DNB he retired from the army in 1863, but according Marie Draper in Marble Hill, he left the army in 1868.